Vietnamese Restaurant in Regina, SK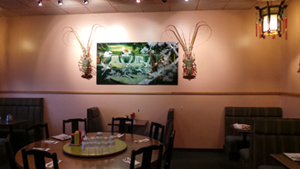 Since 2003, Vietnam Mekong Restaurant has been providing delicious Asian food in Regina, Saskatchewan. We combine Vietnamese, Chinese, and Thai recipes to offer appetizers, soups, combo plates, chow mein, and more. Options include chicken, beef, pork, sparerib, seafood, and vegetarian dishes. Call us for takeout or delivery. We also have a spacious, relaxing dining room with a fireplace and room to host events, so stop in and eat with us.
Try our spring rolls, a customer favorite, or one of our rice vermicelli bowls. Our large selection and generous portions will suit any appetite. Here's what just a few of our customers had to say about their experience with us.
Testimonials
"Really good food."
"Food and service was quick and friendly."
"Best Vietnamese in the entire city. Spring rolls are fantastic."
"I can't say enough about this restaurant. After moving from Ontario, I had a hard time finding a restaurant where I could enjoy Vietnamese food. However, a friend recommended this restaurant, and I think it is great! I enjoy both their Chinese food and Vietnamese food. They have a large menu, and you get big portions so you always have leftovers. My favorite is #47! The spring rolls are also amazing!"
"I pick up fresh rolls here often. Very good, especially the Thai chicken. I have eaten in as well and their meals are always fresh and yummy!"
"This is one of the best Vietnamese restaurants I've been too. We frequently come for the noodle bowls (loved the broiled pork one), but we've been slowly trying to make our way through the rest of the menu. We've never been disappointed. The service is quick and friendly. The food is always hot and tasty. Prices are decent, and the location is perfect for us. We've tried a few other Vietnamese restaurants in Regina based on others recommendations, but we keep coming back here. So far none of the others stand up to the quality and flavor of Mekong."
"They have the best spring rolls I've ever had. We go there every Sunday for a #1 and a #51."
"We have ordered from Mekong many times since they opened a few years ago and without a doubt the flavour and quality never fails to impress. Everything we have tried is very good. Spring rolls, Satays, Specialty dishes, soups, vegetarian dishes, shrimp, beef dishes and mango dishes...the steamed rice is soft and has a sweet aroma. The veggies are crisp. We highly recommend this restaurant to one and all."